WELCOME to the Celtic Way Walk, a walking route researched and described by local enthusiasts.
Its focus is distinctively 'Celtic'.
It begins on the Pembrokeshire coast at the tiny island of Ynys Meicel near Fishguard and crosses volcanic ridges to the peaceful Gwaun Valley, to rise up to Carn Ingli, Pentre Ifan and a Bluestones quarry in the Presili mountains. From the Gors Fawr stone circle the walk goes off the beaten track to Merlin's Hill above the Towy valley then over to Golden Grove.
Leaving Llandeilo, the route rises to the Myddfai lakes and the slopes of Fan Hir (see opposite) before crossing to Sarn Helen and the Nedd valley waterfalls. At Afan Argoed the track climbs the Iron Hills of Afan then falls down into Margam to follow the Heritage coast to the mythic Vale of Glamorgan, cradle of early Celtic Christianity. After exploring the ancient landscapes the route then tracks inland to find the high ridgeways to Gwent.
The Celtic Way Walk crosses the Old Severn Bridge to Aust and cuts across to the river Avon. Now on a chalk landscape the path finds a route to Windmill Hill then the famous ancestral landscapes of Avebury and Stonehenge. From it turns westward to Glastonbury, an end and a beginning in itself.
FOR more background see FAQ's.
AS to the future... research and walking has been ongoing for the past two years to create a structure and template for two developments:
1. Updating and filming of the route by volunteer enthusiasts.
2. Providing fuller historic details. See Sites for a full list of the special sites along each part of the route. If you want to contribute ideas, photos, video or text to this, please get in contact. You are very welcome. Please note that all work on this has been, and will continue to be self-funding. As the originator, I consider the work to be an absorbing passion but not a cause for fundraising!
Ideas, constructive comments and advice are always welcome.See Contact

Welcome to the Archive.
For the original guide see link to booksellers here.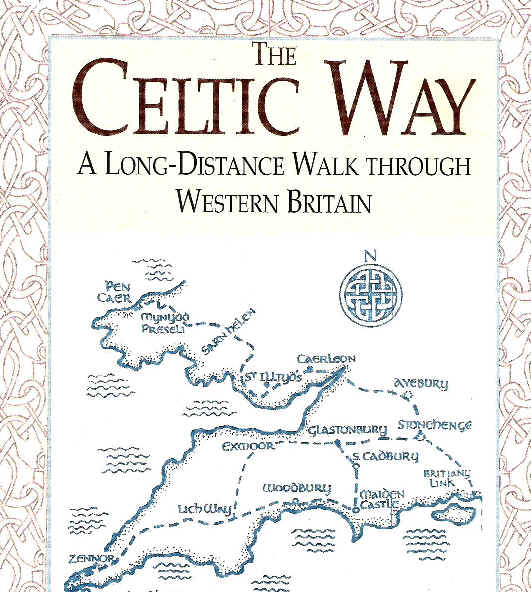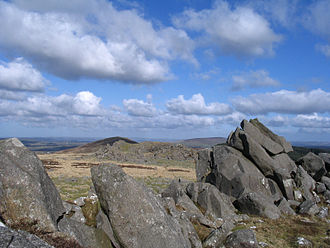 View from Car Menyn courtesy of Wikimedia Commons


The Celtic Way Walk websitelicensed under a Creative Commons Attribution-NonCommercial-ShareAlike 4.0 International License.
Permissions beyond the scope of this license may be available at contact@thecelticway.org.